Roll over image to zoom in
Description
Pea protein isolate, ideal for vegans and vegetarians, is a 100% natural vegetable source of protein derived from golden peas and is free from dairy, lactose, cholesterol, sugar and other ingredients typically found in whey proteins.
Contents
What is Pea Protein Isolate?
Pea protein isolate is basically a powdered protein supplement that has been specially derived from peas, specifically, yellow split peas. Although we may not realise it, peas actually contain high amounts of protein, and so for vegans and vegetarians, pea protein isolate is absolutely ideal. The protein itself provides a comprehensive amino acid profile, providing essential and non-essential amino acids, all the while being free from: gluten, lactose, dairy, and cholesterol. The fact that it is an isolate, basically means that it has undergone additional filtration and processing, removing more fats and carbohydrates from the product, meaning that you get more protein per serving. Most concentrate protein supplements are around 75 – 85% pure protein, but isolates are generally 90 – 95% pure protein, meaning that you get more protein for your money.
How does it work?
Pea protein isolate works in the body in the same way as other protein sources do, in that it helps the body to synthesize new muscle tissues following extensive exercise and physical activity. For example, when we exercise, we destroy our muscle tissue, it is when we rest and recover that we build muscle, providing our bodies have enough of the right nutrients to do so, that is. On top of that however, pea protein can also help enhance blood flow and circulation, due to the fact that it is rich in a compound known as L-Arginine. This amino acid is essential, meaning that it has to come from a dietary source. Pea protein is therefore ideal. On top of that, it also helps enhance the metabolism, due to the fact that the protein is thermogenic. This basically means that the body struggles to digest and break down the protein, and so it has to work harder when doing so. This requires more energy, which means more calories are burnt off and more energy is produced.
What are the main benefits of Pea Protein Isolate supplements?
Some of the main benefits of pea protein isolate supplements include:
Vegan Friendly
As mentioned, vegans can struggle to get enough protein into their bodies on a daily basis, due to the fact that they don't consume protein that has come from an animal. Pea protein isolate however, is 100% vegan-friendly, making it ideal for vegan bodybuilders and vegans generally looking to increase their protein intakes.
Great for food allergies
A lot of people suffer from allergies and intolerances to foods such as dairy, and gluten, meaning that many protein supplements will not be suitable for them. Pea protein isolate however, is free from gluten, dairy, lactose, cholesterol, and more besides, making it the perfect protein source for people suffering from food allergies and intolerances.
Great for building muscle
Protein, no matter where it is derived from, is essential for muscle growth and repair, and the simple fact of the matter is that, without protein, our bodies would not be able to build adequate amounts of muscle following strenuous workouts. Pea protein is not only rich in protein it is also packed full of amino acids.
Other benefits include:
Rich in amino acids
Helps enhance circulation
Promotes muscle growth and repair
Helps regulate and manage body weight
Can assist with fat loss
Increases the metabolism
Increased strength levels
Vegan/vegetarian-friendly
Rich in plant-based proteins
All-natural
Ideal protein source for individuals with food allergies and intolerances
And more…
How and when should they be consumed?
For optimal results, experts recommend consuming 1 – 3 servings of pea protein isolate each day. On training days, ensure one serving comes immediately following your workout. Simply add one large scoop to your beverage of choice, and enjoy. Do not consume with a whole food source as this will slow down the absorption rates.
Health Canada Recommended Dose (powder): Adults: 1 Scoop(s) 1 time(s) per day. Mix product well in 1-2 cups of liquid (water, juice, etc.) immediately before consumption. Store in a cool, dry place.
Pea Protein Isolate VS Soy Protein Isolate
Another popular vegan/vegetarian protein supplement is soy protein, which is derived from soy beans. Soy protein has been found to help strengthen and boost the immune system, and it too is rich in amino acids. However, studies have found that soy protein can potentially increase Estrogen levels in the human body, which can hinder muscle growth and promote fat gain. It is also absorbed much slower than pea protein.
What can it be stacked with?
Pea protein isolate is generally stacked with a number of non-animal based supplements designed to promote muscle growth and repair. Multi-vitamins, Glucosamine, Vitamin C with added zinc, and hemp oil is a popular stack amongst vegans looking to boost their wellness and improve their physiques in the process.
Nutrition facts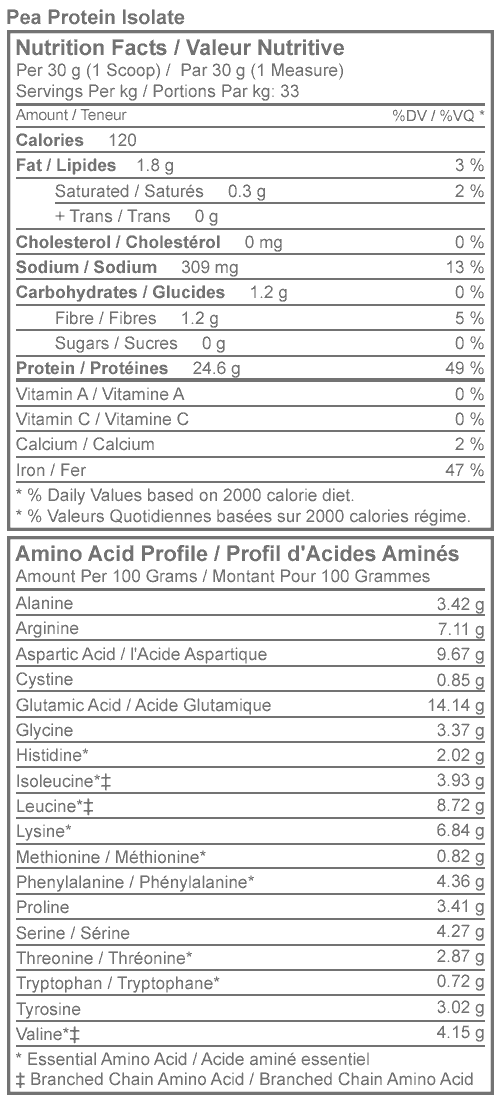 *Nutritional facts based on natural flavour. Other flavours may vary by 4-10%.
Pea Protein Isolate Ingredients
Per Scoop
Medicinal Ingredients (per scoop): Pea Protein (Pea Protein, Pisum sativum - Seed) .......................... 24.6 Grams (80 Percent Protein)
Non-Medicinal Ingredients: 100% Natural Pea Protein Isolate (non-GMO).
Potential side effects
Always speak to your doctor before using any new supplement, and discontinue use immediately, if you experience any adverse side effects. Pregnant and breastfeeding women should consult their doctor before using pea protein isolate. Although very healthy and safe, some mild side effects can include:
Mild stomach cramps
Gas
Flatulence
Cautions and Warnings
Ensure to drink enough fluid before, during, and after exercise. If you are pregnant or breastfeeding, consult a healthcare practitioner before using this product.
This product is made in a facility that handles milk products, gluten, shellfish, soy, peanuts and other tree nuts.
Payment & Security
Your payment information is processed securely. We do not store credit card details nor have access to your credit card information.