Roll over image to zoom in
Description
Micellar Casein is a type of protein derived from milk. Micellar Casein, which is the best type of casein protein available due to it being naturally occurring, is made up of 80% casein, and 20% whey. It is a very slow acting protein that releases its amino acids over a period of 6-7 hours.
Contents
What is Micellar Casein
Just like whey protein, micellar casein protein is derived from milk, predominantly from cow's milk, and is an incredibly popular bodybuilding supplement. Unlike whey protein however, micellar casein protein is a slow-release, slow-digesting protein. Whereas whey comes from milk protein liquids left over when milk turns into cheese, the casein is actually predominantly found in the milk curds which are the solids. Micellar basically means that the protein has been naturally separated from the milk without the use of chemicals. The protein has been filtered in a special way so that the nutrients remain intact and in the best possible condition. Because of this top quality extraction method, micellar casein is top of the line protein that is packed full of its natural nutrients and goodness.
How does it work?
Protein is essential for muscle growth and repair, as well as cellular health and function, along with hormone regulation in the human body. Put simply, it is arguably the most important of all three macronutrients, the other two being: fat, and carbohydrates, so ensuring we get enough is absolutely essential. Our muscles need protein to repair themselves and function correctly, so without the protein, not only will they not function properly, but they will not be able to repair and rebuild themselves either. Micellar casein protein, due to its molecular structure, is absorbed differently, as it is digested and broken down much slower than whey protein, making it a slow-release protein that is perfect when consumed right before bed. When we sleep, our bodies repair and rebuild damaged muscles, providing they have enough nutrients on hand. Without them, ironically, they eat away at muscle tissue for energy, which is what is known as 'muscle catabolism'. With casein protein, your muscles are fed a steady stream of proteins and amino acids for several hours, preventing muscle wastage and breakdown and promoting growth and repair.
What are the main benefits of Micellar Casein?
Some of the main benefits of casein protein include:
Muscle growth and repair
As mentioned, after a strenuous workout, our muscles need plenty of protein and amino acids in order to function correctly and repair themselves. Protein is essential for protein synthesis, and as we do most of our growing at night when we sleep, we need to know we have enough nutrients required. Micellar casein provides a slow and steady release of protein and amino acids, keeping you in an anabolic state as you sleep.
Convenience
Sometimes, we simply don't have the time to eat, and when trying to build muscle, this can be a real pain. By consuming a micellar protein shake however, you are covered for several hours as your body will have all of the protein, amino acids, and nutrients it could ever need.
Taste
Another huge benefit of these supplements is the fact that they taste so great and are so filling. If you get a late night craving for something sweet, simply mix yourself up a casein protein shake before going to bed, and your sweet craving will be satisfied, plus you'll feel full as well.
Muscle growth and recovery
Slow release
Slow absorbing
Top of the range protein
More nutrients retained
Convenient
Simple to mix
Non clumping
Can assist with fat loss
Helps suppress appetite
Promotes cellular health and function
Complete amino acid profile
And more...
How and when should it be consumed?
For optimal results, experts recommend consuming 1 x micellar casein protein bed late at night, around 30 minutes before you go to bed. If you anticipate the fact that you won't get chance to eat for a while, you may wish to have a shake earlier in the day as well, to help tide you over.
Health Canada Recommended Dose (powder): Adults: 1 Scoop(s) 1 time(s) per day. Mix product well in 1-2 cups of liquid (water, juice, etc.) immediately before consumption. Store in a cool, dry place.
Micellar Casein VS Hydrolyzed Casein
Hydrolyzed casein protein is basically a casein protein that has been filtered and processed slightly differently. The protein molecules have been "pre-digested" making them easier to be absorbed, thus increasing the bioavailability. As this speeds up the absorption rates, some people see this as a waste of time, as the idea behind casein is that it is absorbed slower than usual.
What can it be stacked with?
Most typical bodybuilding stacks will include micellar casein, along with supplements such as: whey protein, omega 3 supplements, BCAAs, Dextrose, and L-Glutamine.
Nutrition facts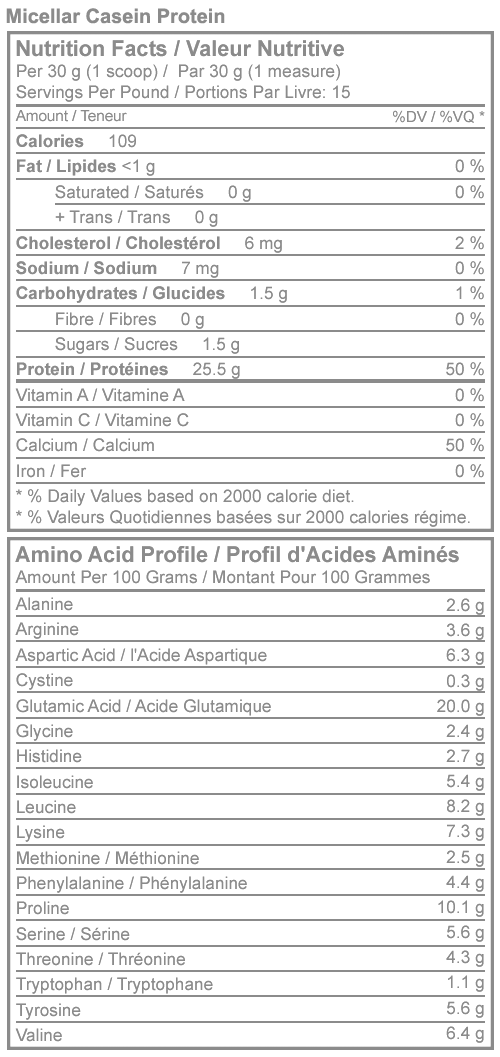 *Nutritional facts based on natural flavour. Other flavours may vary by 4-10%.
Micellar Casein Ingredients
Per Scoop
Medicinal Ingredients (per scoop): Micellar casein (Casein micelles, Micellar casein, Bos taurus - Milk) .......................... 25.5 Grams (84 Percent Protein)
Cookies & Cream, Strawberry, Strawberry Milkshake, Vanilla
Non-Medicinal Ingredients: Natural and Artificial Flavours, Xantham Gum, Sucralose, Sunflower Lecithin (Less than 0.5%).
Original Chocolate
Non-Medicinal Ingredients: Natural and Artificial Flavours, Xantham Gum, Sucralose, Sunflower Lecithin (Less than 0.5%).
Chocolate Milkshake
Non-Medicinal Ingredients: Cocoa, Natural and Artificial Flavours, Xantham Gum, Sucralose, Sunflower Lecithin (Less than 0.5%).
Chocolate Peanut Butter
Non-Medicinal Ingredients: Cocoa, Peanut Flour, Natural and Artificial Flavours, Xantham Gum, Sucralose, Sunflower Lecithin (Less than 0.5%).
Unflavoured
Non-Medicinal Ingredients: Sunflower Lecithin (Less than 0.5%).
Potential side effects
As with all supplements, always consult your doctor before using any new supplement, and discontinue usage if you experience any adverse side effects. Pregnant and breastfeeding women should not use this supplement. Although very safe, some users have reported the following side effects:
Frequent urination
Constipation
Flatulence
Gas
Bloating
Slight nausea
Cautions and Warnings
Ensure to drink enough fluid before, during, and after exercise. If you are pregnant or breastfeeding, consult a healthcare practitioner before using this product. This product contains milk by-products/derivatives.
Micellar Casein by nature tends to be slightly thicker when dissolved in liquid with a slightly grittier texture when comparing to whey protein.
This product is made in a facility that handles milk products, gluten, shellfish, soy, peanuts and other tree nuts.
Payment & Security
Your payment information is processed securely. We do not store credit card details nor have access to your credit card information.