Roll over image to zoom in
Description
Contents
What is brown flax seed?
Flax seeds have been harvested and cultivated for literally thousands upon thousands of years, though back then they were favourable simply for nutritional purposes, rather than health purposes as they are now. Flax seeds are sometimes referred to as linseeds, and have recently gained great favour in the health and fitness community for being fantastic sources of fibre and fatty acids. There are different varieties of flax seed, including golden flax seed, and brown flax seed. Brown flax seeds have been found to be the healthier of the two, and are often the seed of choice for keen health and fitness enthusiasts.
What are the benefits of brown flax seeds?
Brown flax seeds are incredibly nutrient dense foods and contain numerous ingredients and health properties that benefit the human body greatly. Some of these benefits include:
They're rich in soluble and insoluble fiber
They're a great source of healthy fatty acids
They lower bad cholesterol
They're a great source of energy
They're great for the heart and digestive system
They taste great
They're great for weight loss and weight management
They have natural anti-inflammatory properties
They can be used in a number of different ways
And more...
What makes them so healthy?
There are several health properties and benefits associated with brown flax seeds, some of the reasons why they are considered so incredibly healthy are as follows:
The healthy fat content
Brown flax seeds are a fantastic source of essential fatty acids, which are known as healthy fats. One example of the fats contained within is one known as ALA or Alpha Linoleic Acid. This fatty acid has so many health properties it would take us all day to list them all. For starters it helps to lower fatty deposits in the arteries known as cholesterol, which can harder and cause high blood pressure, strokes, heart disease, or a heart attack. ALA also helps to reduce inflammation, improve circulation, and boost brain function and health as well. The fats also boost metabolic function so we have more energy and burn more calories as a result.
The fiber
The great thing about brown flax seeds is that they contain both soluble and insoluble fiber. Soluble fiber will break down and dissolve in water in the stomach, where it will form a gel-like paste which helps reduce cholesterol and keeps us feeling full for longer, which is ideal for anybody looking to diet or maintain their weight. The insoluble fiber helps the digestive system and helps keep our bowels regular and healthy, promoting healthy bowel movements and increased nutrient absorption during digestion.
How can they be used?
Brown flax seeds come in seed form or in powdered form, and can be eaten whole as a snack, or added to smoothies or protein shakes. They can also be used for cooking, both in baking and regular cooking. The seeds are particularly useful for sprinkling over salads and main dishes, whilst the powder can be used for baking breads perhaps.
Nutrition facts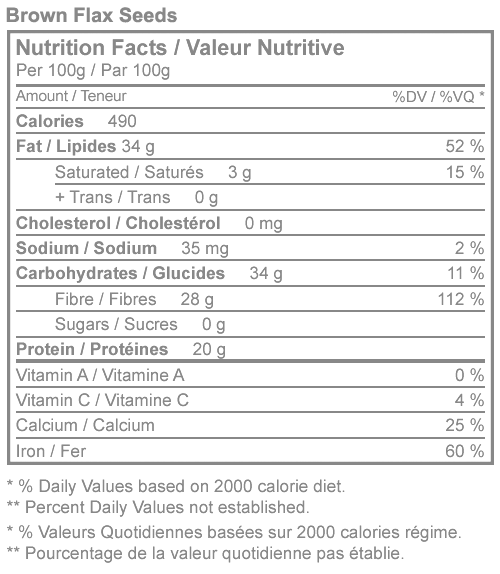 Allergen warnings
Allergy Statement: This product is made in a facility that handles milk products, gluten, shellfish, soy, peanuts and other tree nuts.
This product may contain milk, gluten, shellfish, soy, peanuts and other tree nuts.
Disclaimer: The above description does not constitute medical advice and is for informational purposes only and has not been evaluated by Health Canada, CFIA, or FDA. Please consult a properly licensed medical professional before consuming nutritional supplements. This product is not intended to treat, diagnose or cure any disease.
Payment & Security
Your payment information is processed securely. We do not store credit card details nor have access to your credit card information.