Roll over image to zoom in
Description
Contents
What are walnuts?
Just as the name suggests, walnuts are indeed a type of nut, or more specifically, the fruit of a walnut tree. Walnut trees grow all over the world, though the two most common varieties of walnut are black walnuts and English walnuts. These fully edible kernels are tasty, versatile, and are packed full of healthy and nutritional benefits that help improve our health, fitness, and general well-being in a whole variety of various different ways.
What are the benefits of walnuts?
There are a number of different benefits associated with eating walnuts, with many of these benefits coming from both healthy standpoints, and general enjoyment standpoints too. Some of the more common and important benefits of walnuts include:
They have been proven to help improve cardiovascular health
They're a great source of fiber
They're full of vitamins and minerals
They taste great
They contain healthy fats
They're versatile and ideal for snacking whilst on the go
They help improve brain health
And much more...
So, what makes Walnuts healthy?
As you can see above, there are a number of various benefits associated with consuming walnuts, but what is it that actually makes them healthy? Well, let's take a look.
They contain fiber
As walnuts are such a great source of fiber, they can benefit us for a number of different ways. For starters, fiber has actually been found to lower harmful cholesterol within the body, which in turn helps reduce blood pressure, the likelihood of stroke, and helps improve heart health. This could also help with weight loss and weight management because fiber helps reduce appetite as it helps keep us feeling full for longer.
They're rich in healthy fats
Walnuts are rich in healthy fats and oils, which makes them the perfect food for improving brain health and helping to prevent degenerative diseases such as Alzheimer's later in life. The healthy fats that the nuts contain, Omega 3 fatty acids for example, also help to improve joint health, eyesight, our metabolisms, and can again reduce the risk of developing heart disease.
They boost immune function
The body's immune system is its only line of defence against illness and disease. When germs, bacteria, and other harmful microbes try invading our body, with the aim of reproducing and making us sick, our immune systems dispatch white blood cells to destroy these invaders before they do any damage. The stronger the immune system is, the healthier we become and as vitamins, minerals, and antioxidants all strengthen the immune system, and as walnuts are rich in all of the above, especially vitamin E, walnuts will boost our immune systems, helping to protect against numerous illnesses and diseases.
How can they be used?
The great thing about walnuts is that once they're out of their shells, they're ready to go and can be eaten as a snack, with yoghurt, in various baking recipes, in salads, and much more on top of that.
Allergy Information
Contains walnuts. May contain other tree nuts.
Nutrition facts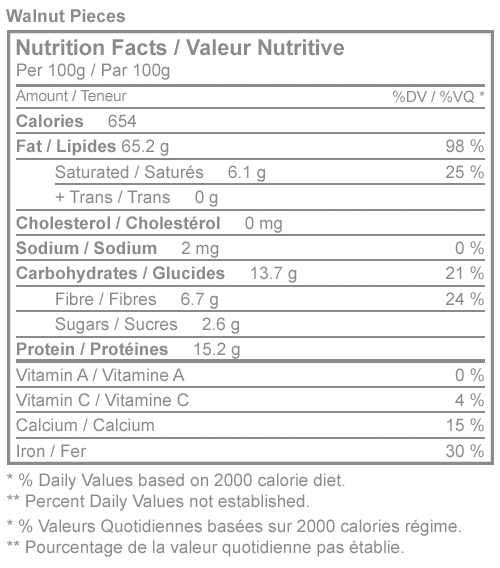 Payment & Security
Your payment information is processed securely. We do not store credit card details nor have access to your credit card information.