Roll over image to zoom in
Description
Contents
What are rolled oats?
Oats are, without question, one of the healthiest, tastiest, and most versatile foods in the world, and are absolutely ideal for anybody who happens to be dieting, following a healthy eating regime, or simply just looking for a tasty and versatile meal or snack. There are a number of different types of oats, but many health and fitness experts tend to favour rolled oats over more slightly well-known types of oats such as steel-cut for example. Rolled oats get their name because the oat groats from the oats are carefully steamed and then rolled using specialist processes and equipment, to produce very thin and fine flakes. This process is held in such high regard by health and fitness experts because it helps to stabilize the nutrients found within the oats, as well as helping to keep them fresh for longer, and also as they're finer, helping to speed up the cooking process as well.
What are the benefits of rolled oats
Oats in general are incredibly healthy, however, in terms of health benefits, many will agree that rolled oats win the race for being crowned king of the oats. Some of the more popular and important benefits of rolled oats include the following:
They're rich in dietary fiber
They're a great source of vitamins, particularly B vitamins
They're rich in minerals
They taste great
They're versatile and can be used in a number of different ways
They can promote weight loss and healthy weight management
They're good for the digestive system
They can regulate blood sugar levels
They're a great source of slow-release energy
They can boost immunity
And more...
What makes rolled oats so healthy?
We know some of the benefits of rolled oats from looking at the list above, but what is it about these various examples that helps to make rolled oats so healthy? Here are a few examples:
The fiber
As rolled oats are a great source of dietary fiber, they benefit the body in a whole variety of different ways. For starters, dietary fiber helps to lower harmful cholesterol levels, which can help to protect against strokes, heart attacks, heart disease, hypertension, and much more on top of that. The fiber also keeps the digestive system healthy, which can improve nutrient absorption. As if that wasn't enough, it also keeps us feeling full for longer, so we don't experience hunger, and will be less likely to cheat on our diets or consume excessive calories.
The carb content
Rolled oats are a great source of carbohydrate, but as the carbs found in rolled oats are complex carbohydrates, they're considered healthy as they can regulate blood sugar levels and provide a slow and steady release of energy into the body, helping to fuel us throughout the day.
Weight management
As these oats are low in sugars, unhealthy fats, and calories, they're great for people looking to lose weight or manage their weight. Because they reduce hunger and keep us full for longer, they can also prevent binge eating and can help keep hunger at bay.
The vitamins, minerals, and antioxidants
Finally, as they're so rich in vitamins, minerals, and antioxidants, including B vitamins, Folate, iron, and zinc, to name just a few, the body and the immune system benefits greatly, helping to keep us functioning correctly and helping to prevent illness and disease.
How are they used?
Rolled oats can be mixed and cooked with milk or water to make porridge for breakfast, they can be added to protein shakes and smoothies, they can be used for baking, and they can be used to make cereal and protein bars. They're so versatile and can be eaten with yoghurt, milk, nuts, peanut and other nut butters, fruits, or even protein powders.
Manufactured in a facility that processes milk, soy, eggs, peanuts, wheat, tree nuts, sulphites, sesame and seafood.
Nutrition facts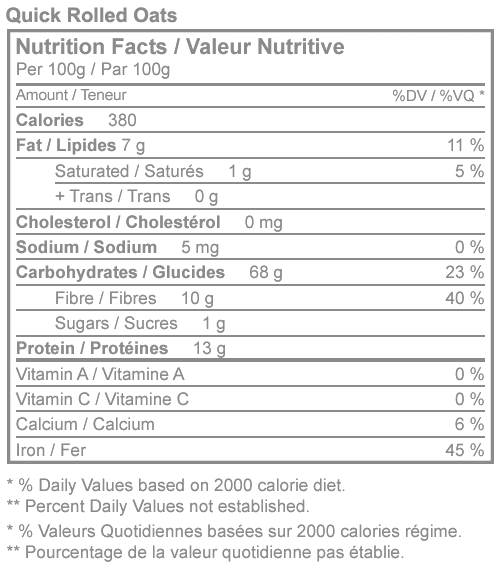 Payment & Security
Your payment information is processed securely. We do not store credit card details nor have access to your credit card information.