Roll over image to zoom in
Description
Hemp protein is derived from natural raw hemp seeds and is a fantastic source of protein for vegans and vegetarians. It's jam-packed full of enzymes, vitamins, minerals, antioxidants, essential fatty acids and other nutrients such as fiber.
Contents
What is premium hemp protein?
Premium hemp protein is a fantastic source of plant-based protein that is perfect for vegans, vegetarians, and individuals that suffer with allergies and intolerances to dairy products. It is derived from natural, whole, and completely raw hemp seeds, providing you with a fantastic source of protein that will help improve your health, and indeed your physique, in a variety of different ways. Premium hemp seed however, is so much more than just a protein supplement, as it is considered by many, to be a supplement that plays a key role in general health and well-being. Not only are hemp seeds packed full of vitamins, minerals, and antioxidants, but they're also full of amino acids and contain other nutrients such as chlorophyll, and even essential fatty acids.
How does it work?
Premium hemp protein works in a number of different ways within the body, due mainly to the fact that it is packed full of so much natural goodness. Not only is it rich in protein, it also contains other nutrients that help to strengthen and boost the immune system, helping the body to produce more white blood cells, which then work to destroy germs, bacteria, toxins, and free-radicals within the body. The protein however, is perfect for enhancing your physique as it helps the body to replace damaged and worn down muscle tissue, with bigger, stronger, and healthier muscle tissue via protein synthesis. We need protein in order for our muscles to recover after a strenuous workout, and premium hemp protein is a fantastic alternative to dairy-based proteins.
What are the main benefits of premium hemp protein supplements?
Some of the main benefits of premium hemp protein supplements include:
Muscle growth
As mentioned, in order for the muscles to repair themselves after we train, we need protein and amino acids, in order to initiate protein synthesis. When we exercise, we damage and destroy our muscles, and the only way they can grow is when we rest and recover, providing the body has access to the right nutrients. Premium hemp protein is ideal for anybody looking to increase their protein consumption via a plant-based form.
Very healthy
Not only is premium hemp protein full of protein and amino acids, it is also rich in EFAs, fibre, vitamins, minerals, antioxidants, and other nutrients. All of these nutrients are incredibly healthy and beneficial, making this protein one of the healthiest supplements you could wish for.
Vegan/Vegetarian friendly
Vegans, vegetarians, and people suffering with food allergies, often struggle to get enough protein in their diets. Hemp protein however, is absolutely perfect as the powder is convenient, it provides a great dosage of protein per serving, and it is fully vegan and vegetarian-friendly.
Other benefits include:
Muscle growth
Increases in strength
Fat loss
More energy
Hypoallergenic
Vegan/vegetarian-friendly
Plant-based protein
Boosts the immune system
Rich in natural goodness
Increases post-workout muscle recovery
And more…
How and when should it be consumed?
For optimal results, experts recommend consuming 1 – 3 premium hemp protein shakes per day. Simply add a heaped scoop to your beverage of choice, give a good mix, and enjoy. On training days, ensure that one of your shakes is consumed as soon as you finish your workout. Mix with water for increased rates of absorption.
Health Canada Recommended Dose (powder): Adults: 1 Scoop(s) 1 time(s) per day. Mix product well in 1-2 cups of liquid (water, juice, etc.) immediately before consumption. Store in a cool, dry place.
Premium Hemp Protein VS Whey Protein
Although both are sources of protein, these two couldn't be more different. Whey protein is derived from cow's milk, whereas hemp protein comes from hemp seeds. Hemp is free from lactose, which is a primary compound found in milk and dairy products. It is also packed full of healthy fats, minerals, and vitamins, because it comes from a plant-based source. Whey protein is absorbed much quicker than hemp, and arguably provides more protein per serving, but even so, hemp more than holds its own when compared with whey.
What can it be stacked with?
Most people will combine premium hemp protein with other supplements designed to improve general health and well-being. In particular, Vitamin C, Multi-vitamin, and Flaxseed Oil supplements, stack very well with premium hemp protein.
Nutrition facts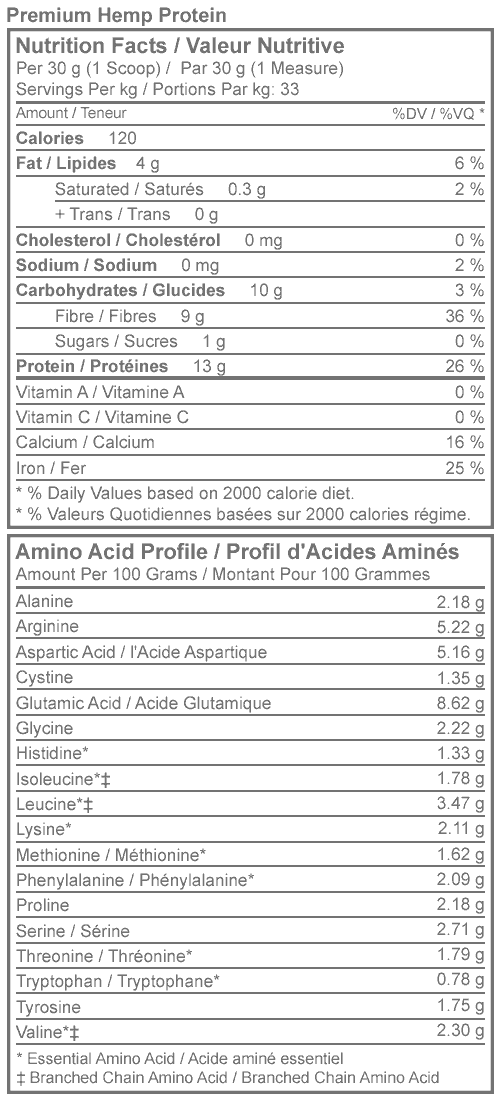 *Nutritional facts based on natural flavour. Other flavours may vary by 4-10%.
Premium Hemp Protein Ingredients
Per Scoop
Medicinal Ingredients (per scoop): Hemp Protein Concentrate (Hemp Protein Concentrate, Cannabis sativa - Seed) .......................... 15 Grams (50 Percent Protein)
Non-Medicinal Ingredients: none.
Potential side effects
As with all supplements, always consult your doctor before using any new products, and discontinue usage if you experience any adverse side effects. Pregnant and breastfeeding women should consult their doctors before using this supplement. Although natural and deemed incredibly safe, some users have experienced mild side effects, including:
Diarrhea
Constipation
Stomach cramps
Bloating
Flatulence
Cautions and Warnings
Ensure to drink enough fluid before, during, and after exercise. If you are pregnant or breastfeeding, consult a healthcare practitioner before using this product.
Allergy statement
Manufactured in a facility that also processes eggs, peanuts, wheat, tree nuts, sulphites, sesame and seafood.
Payment & Security
Your payment information is processed securely. We do not store credit card details nor have access to your credit card information.