Roll over image to zoom in
Description
Read the full product description for more information.
Contents
What is All-Natural Grass Fed New Zealand Whey Protein Isolate with stevia?
All natural grass feed New Zealand whey protein isolate with stevia, is considered one of the absolute best undenatured whey protein supplements in the entire world, and it all comes down to the fact that the cows that produce the milk responsible for the whey, are so healthy and well looked after. Whey protein comes from milk, and is a by-product left behind when milk separates into cheese. When it separates, you get solid curds, and a liquid known as whey, which contains the whey protein. However, most cows are injected with hormones and are fed with cheap grains that are littered with chemicals, fertilizers, and pesticides, meaning that the milk they produce is not as healthy. With New Zealand grass fed cow's milk however, the cows graze on nothing but pure grass, they roam freely, and they aren't injected with drugs and hormones, meaning that they produce extremely healthy milk. Whereas some proteins are sweetened with chemicals and artificial sweeteners, this protein is sweetened with stevia, which is an all-natural, plant-based sweetener.
How does it work?
As this is a whey protein isolate, which is already of a much higher quality, it is filtered and processed even further, to remove even more impurities. Whey concentrates for example, are around 80% pure protein per serving, so the final 20% comes from fats and carbohydrates, meaning that you get less protein per serving. Whey isolates however, are filtered and processed so that much more of these impurities are removed, leaving you with a protein of around 95% pure protein per serving. Protein feeds the muscles, it initiates protein synthesis, and it is vital for muscle growth and repair. The more protein you put into your muscles, the larger and stronger they will become.
What are the main benefits of all natural New Zealand whey protein isolate with stevia?
The New Zealand Whey industry is regarded as a world leader because of their advanced processes in producing whey protein and their natural means of producing their protein. All cattle in New Zealand are natural grazers which means all cattle are grass-fed only and are not subjected to any rBST (recombinant bovine somatotropin), hormones, antibiotics, and pesticides. Canadian Protein's New Zealand Whey Isolate is as natural as a Whey Protein Isolate can get.
Our New Zealand Whey Protein Isolate is only flavoured and sweetened with 100% All Natural ingredient right down to the smallest amount of anything that is used in our formula.
All Natural protein products have a bad reputation for tasting quite a bit worse than proteins that aren't all natural. We are simply not going to accept that reality so have used the absolute best quality all natural ingredients in order to bring you an All Natural Whey Protein Isolate that actually tastes amazing. In fact, we use the highest quality Stevia on the globe which produces a superior tasting product without the liquorice aftertaste and bitter tones of traditional all natural Stevia sweetened whey protein products.
Not only is our raw New Zealand Whey Isolate simply superior to other brands, our New Zealand Whey Isolate is Soy Free! The agglomeration process is also far superior to other brands because we do not use soy lecithin to agglomerate the whey protein in order to make it water-soluble. Instead we use sunflower lecithin to make our product water-soluble which creates a product that mixes easily and is soy-free.
Lastly, use a process called cross flow microfiltration (cold processed) which yields a 100% undenatured whey protein isolate which allows for a higher protein content without unwanted fat, carbs and keeping intact all protein sub-fractions and producing a whey isolate extremely high in immunoglobulin's as high as 10% or more whereas other brands may only. These characteristic produce a whey protein isolate that supports immunity and increases muscle repair and growth more effectively.
Some of the other main benefits associated with this form of protein include:
Increased muscle growth
As mentioned, whey isolates in general, provide more protein per serving, and the more protein your muscles can absorb, the quicker they can rebuild and repair themselves. This protein is incredibly fast absorbing, making it perfect for post-workout nutrition.
Healthier
This protein comes from cows that graze on natural grass, and have not been fed with chemical-laded grains, or injected with artificial hormones. On top of that, it is sweetened with stevia, which is a healthy and natural plant-based sweetener. Some proteins are sweetened with aspartame and similar chemicals, which have been linked with cancer and dementia, amongst other things. Stevia however, is healthy and all natural.
Better taste
As the ingredients are of a better quality, the overall taste and consistency of the protein is also of a much better quality, meaning that you enjoy the taste better, when you use the supplement.
Other benefits include:
Free from artificial flavours
Free from artificial sweeteners
All natural healthy ingredients
Undenatured
We use the highest quality Stevia on the globe which produces a superior tasting product without the licorice aftertaste and bitter tones of traditional all natural Stevia sweetened whey protein products
Free from hormones and antibiotics
All cattle that this our New Zealand Whey Protein comes from is grass-fed
Increased muscle mass
Increased fat loss
More protein per serving
Rapid absorption
Increased strength levels
Increased rates of recovery
Better taste
Better quality ingredients
And more...
How and when should it be consumed?
This whey protein can be consumed like any other, although you must remember that it is not designed to replace meals, but rather, to supplement them. Experts recommend between 1 and 3 shakes per day, mixed with either milk, or water. On training days, consume your whey with water immediately after you work out.
Health Canada Recommended Dose (powder): Adults: 1 Scoop(s) 1 time(s) per day. Mix product well in 1-2 cups of liquid (water, juice, etc.) immediately before consumption. Store in a cool, dry place.
Natural Grass-Fed Whey Isolate VS Whey Concentrate
The main difference between whey isolate and whey concentrate, whether grass fed or not, is the fact that, because whey isolate undergoes a more extensive filtration process, more of the protein is retained, and more impurities are removed. This basically means that you get more protein per serving. Whey concentrate is still beneficial, it just means that you get slightly less protein per shake.
What can you stack with it?
This protein can be stacked with virtually any supplement, although, as most people who use whey protein are looking to build muscle, it should ideally be stacked with other muscle building supplements, which include, but are not limited to: creatine monohydrate, BCAAs, Glutamine, Leucine and dextrose post-workout for rapid absorption.
Nutrition Facts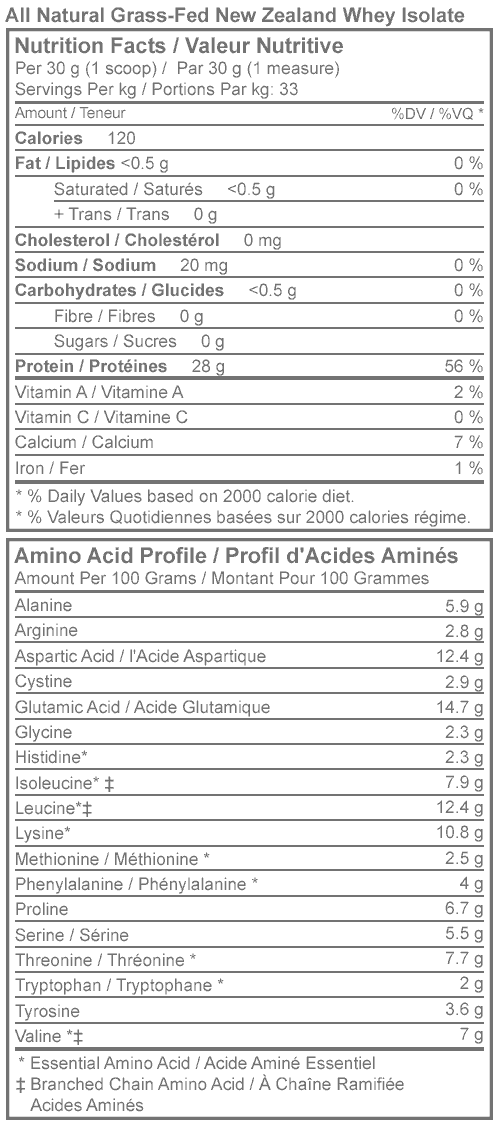 *Nutritional facts based on natural flavour. Other flavours may vary by 4-10%.
All Natural Grass Fed New Zealand Whey Protein Isolate Ingredients
Per Scoop
Medicinal Ingredients (per scoop): Whey Protein Isolate (Whey protein isolate, Bos taurus - Milk) .......................... 28 Grams (94 Percent Whey protein)
Mint Chocolate Chip, Vanilla
Non-Medicinal Ingredients: Natural Flavours, Xantham Gum, Stevia, Non-GMO Sunflower Lecithin.
Chocolate Milkshake, Original Chocolate
Non-Medicinal Ingredients: Cocoa, Natural Flavours, Xantham Gum, Stevia, Non-GMO Sunflower Lecithin.
Potential side effects
All natural New Zealand grass fed whey protein isolate with stevia is considered one of the healthiest supplements in the world, due to the fine quality ingredients, but even so, you should still speak to your doctor before use and should discontinue usage if you experience any adverse side effects. Pregnant and breastfeeding women should not use the supplement to be on the safe side. Some users have reported mild side effects, including:
Stomach cramps
Bloating
Gas and flatulence
Frequent urination
Constipation
Cautions and Warnings
Ensure to drink enough fluid before, during, and after exercise. If you are pregnant or breastfeeding, consult a healthcare practitioner before using this product. This product contains milk by-products/derivatives.
Allergen warnings
Contains: Milk.
Allergy Statement: This product is made in a facility that handles milk products, gluten, shellfish, soy, peanuts and other tree nuts.
This product may contain milk, gluten, shellfish, soy, peanuts and other tree nuts.
Payment & Security
Your payment information is processed securely. We do not store credit card details nor have access to your credit card information.